Cascais is located on the west coast of Portugal, right on the edge of mainland Europe and only 30 kilometres from Lisbon and its international airport. About two-hour flight from most of Europe's principal cities, it's a surprising and welcoming place with lots of glamour, serenity and natural surroundings.
Cascais location is one of our biggest triumphs for attracting international events. Besides being close to the capital, Cabo da Roca Cliffs, Sintra Unesco World Heritage site, and the National Park of Sintra Cascais are all reachable within 20 minutes' drive. Very few destinations have the chance to offer such an intense blend of resources within a small range of space.
The region has made the most of its special aura and has invested in modernising its facilities, building innovative and state-of-the-art infrastructure. Despite its exclusive ambience it has continuously offered extremely competitive services to the international market, with an excellent price/quality ratio and a high level of added value for those who seek professionalism and a warm welcome.
Cascais has a wide range of infrastructures and accommodations that are perfect for hosting any kind of event, from meetings to conferences and incentives tours.
Moreover, the wide choice of activities that are available for groups (including sports, cultural and leisure options) will ensure that any event, conference or meeting will be a great success.
Cascais Historical Overview - The Charm of the Atlantic Coast
Considered the Charm of the Atlantic Coast, Cascais is the ideal place for a break. With the genuine atmosphere of a peaceful seaside town, it's always a very friendly and safe place to be with beautiful beaches protected by sand-dunes, cliffs and the nearby mountains. What's more, you can take full advantage of its privileged location by popping into Lisbon for a fascinating stroll through the vibrant streets of a bustling European capital. Due to this proximity to Lisbon, Cascais is closely linked to much of Portugal's political and military history having been a popular place of rest and relaxation for the royal family.
The Cascais coast was the first place to be seen by ships approaching the Tagus Estuary and was the last image seafarers took with them when they headed for the far-flung corners of the Portuguese Empire. Its population witnessed the departure of the earliest explorers and saw them return with treasures from Africa, spices from India, and gold and gems from Brazil.
In more recent times, the region became a pioneer of Portuguese tourism when in 1870 the Portuguese royal family chose Cascais, more specifically the Cidadela, as its summer residence due to the excellent location, natural surroundings, temperate climate and high quality of the local sea and spa waters.
Due to the events of world history, and on account of Portugal's rare status as a neutral country, the Cascais area was a place of immense strategic importance during the Second World War and became a major hub of international diplomacy and espionage as one of Europe's safe havens during this time of crisis. Ian Fleming was here at that time and it is rumoured that it was in Hotel Palácio Estoril that he got his inspiration for James Bond.
Cascais hosted many European celebrities, royal families and renowned artists, including Josef Von Habsburg of the Austrian royal family and King Humberto II of Italy.
Today, with over 650 years of history, the region has retained its cosmopolitan and sophisticated feel to become affectionately known as the Portuguese Riviera.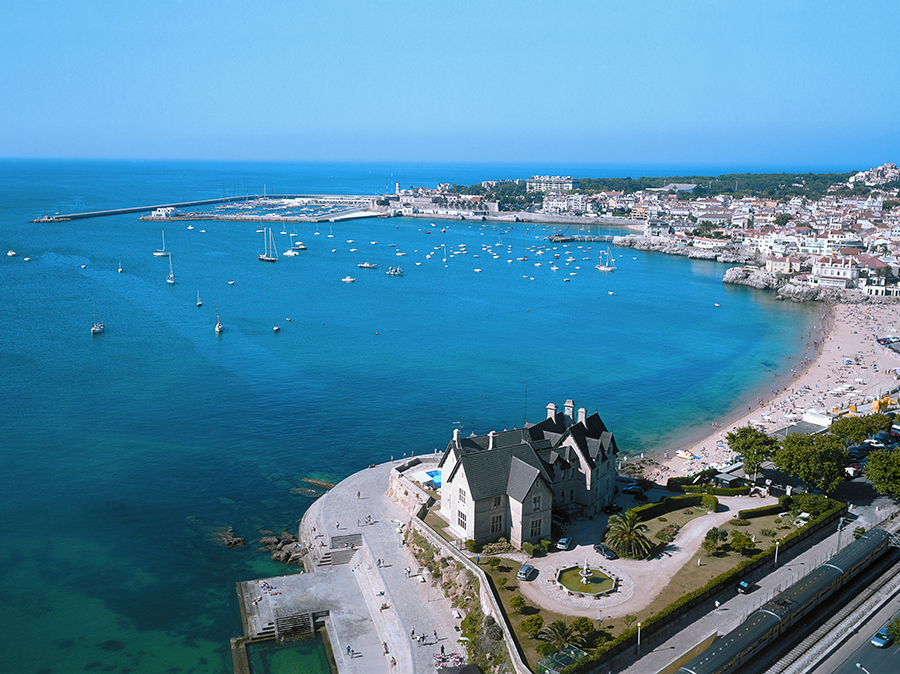 Baía de Cascais (Cascais Bay)
With its splendid bay, small fishing boats and cosy narrow streets, Cascais has one of the finest sea views in Portugal.
Paredão
One of the best ways to get to know the beaches between Estoril and Cascais is walking along the 2750 meters of Paredão (Promenade) de Cascais. You can choose to enter Paredão on Conceição Beach (Cascais), Monte Estoril, Tamariz Beach (Estoril) or Azarujinha Beach (São João do Estoril). Enjoy the transparent and calm sea, good for those who like to swim or stand up paddle.
Fortaleza de Cascais and Palácio da Cidadela
The old Fortress – Fortaleza de Cascais – is nowadays a set of buildings with a hotel, art galleries, restaurants and shops.  Palácio da Cidadela, once a summer home for the Royal Portuguese Family, from 1870 until 1908, is now used as one of the official residences of the President of the Republic. After extensive restoration it was opened as a museum in 2011, with an emphasis on the role of Portuguese presidents.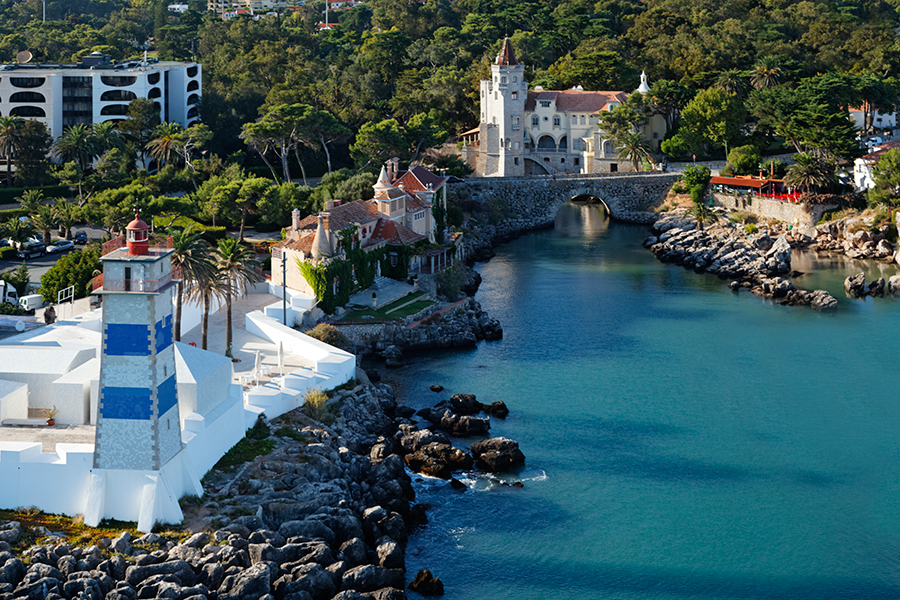 Parque Marechal Carmona
The Marechal Carmona Park, also known as Gandarinha Park, is one of the most extensive and beautiful gardens of Cascais. Situated in the historic center of town, the Park includes the gardens of the Palace of the Condes of Castro Guimarães and property of the Viscount of Gandarinha.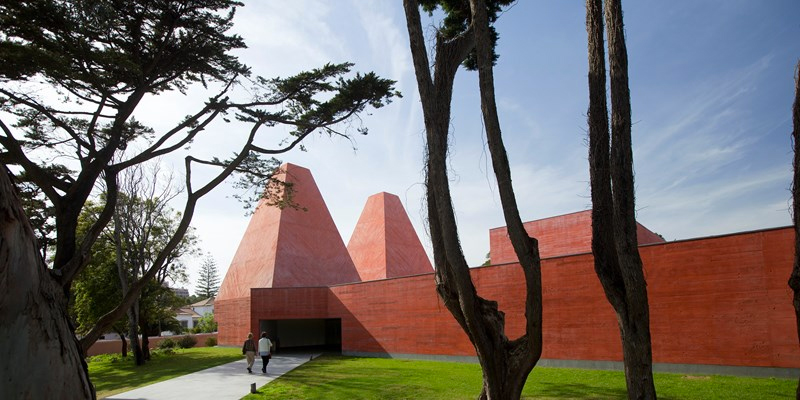 Casa das Histórias Paula Rego (Museum)
In 2006, the London-based painter Paula Rego (currently the best-known Portuguese plastic artist of her generation) chose Cascais as the location for her House of Stories, a project designed by the architect Eduardo Souto de Moura. The display comprises a significant number of her works as well as some by her husband, Victor Willing, an artist and critic who died in 1988.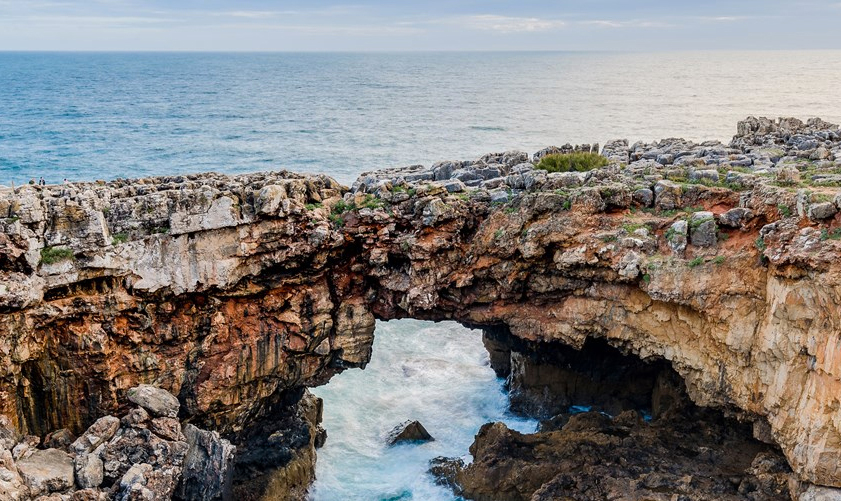 Boca do Inferno
Literally translated as the Mouth of Hell, Boca do Inferno is the remains of an ancient cave with its wide-open mouth jutting into the sea in the form of an archway, through which the Atlantic waves crash relentlessly.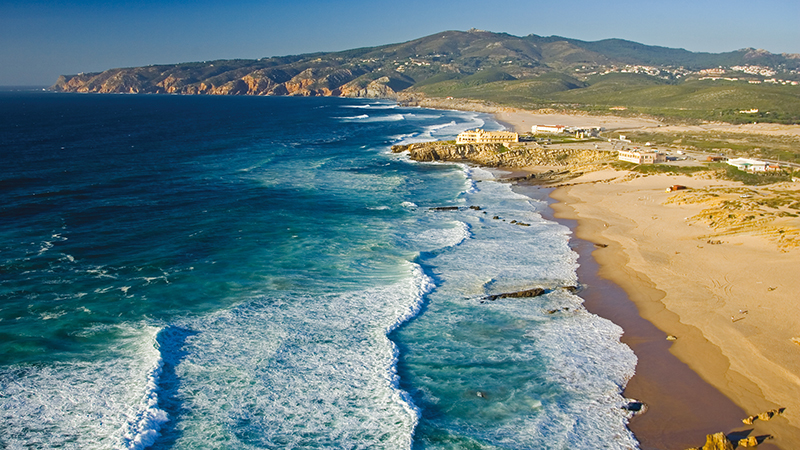 Guincho Beach
The world's top windsurfing location, with impressive views over the Atlantic and the sand-dunes. Is part of the Sintra-Cascais Natural Park.
Some attractions near Cascais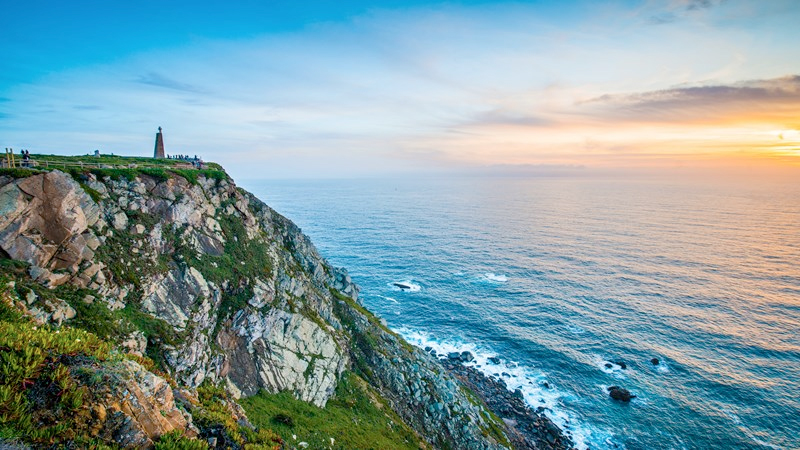 Cabo da Roca
The most Western point of Europe where you can have spectacular views over the Atlantic Ocean.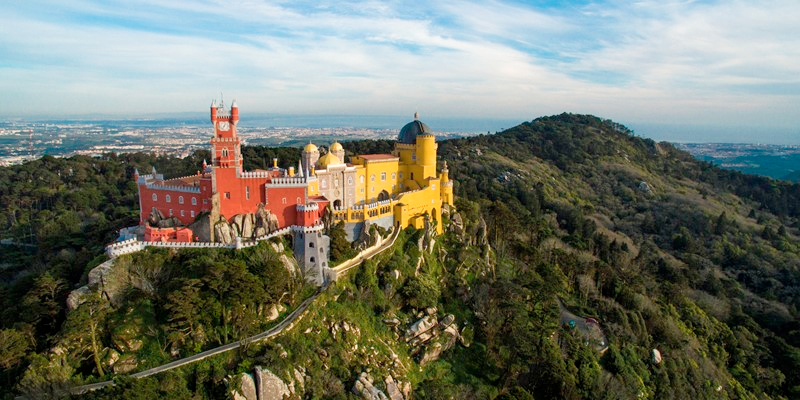 Sintra
Located at the pine-covered hills of Serra de Sintra, Sintra is known for its mystic beauty especially during rainy and windy days. This mysterious city has long been famous for the castle walls and the palaces, rising out of its many foggy hills, and its beautiful fountains. Land of magic and charm, Sintra is a UNESCO World Heritage since 1995.
Palácio Nacional da Pena – Sintra
This Romantic-style palace was commissioned in the first half of the 19th century by D. Fernando of Saxe-Coburg-Gotha on the site of an old 16th century convent. It is full of unusual details and the surrounding landscape is as impressive as the architecture itself. From here you can enjoy breath taking views of Sintra-Cascais Natural Park and the region as a whole.
The Contents and Photos above were kindly given by Visit Cascais. For more information, please see Visit Cascais.
Other relevant Information
Population
Portugal – about 10.5 million
Lisbon – about 505.526 thousand
Cascais – about 210.889 thousand
Language – Portuguese
Religion – 81% Roman Catholic
Time – Greenwich Mean Time (GMT)
Climate – Mediterranean – mild temperatures throughout the year, high number of sunshine days.
In October/November, the Climate Statistics for Cascais are:
Month
October
November
 

Lowest Temperature
Average (Cº)

14
11
Highest Temperature
Average (Cº)
21
17
 
Total Rain
Average (mm)
100
130
Electricity –The voltage is 230 V/50Hz with European two-prong plug. Electrical equipment of 110V/60Hz requires the use of an adapter and/or voltage converter.
Currency – Euro (€) (EUR)
Credit and Debit Cards – Major credit cards (Visa, Eurocard/Mastercard, etc.) can be used in the most of the shops and businesses. Look for the logo displayed at the entrance.
ATMs operate 24 hours a day. Major credit cards and banking cards are accepted.
Visa regulation –Portugal is a member of the European Union and the Schengen Agreement. For visa requirements see: Schengen Visa Info.
The Schengen visa regulations apply to all citizens of the countries for which entry visas are requested.
Telephone, Fax – Portugal's country code is +351
Emergency Call Number – 112